Personal Injury, Auto Accidents, Wrongful Death,
Criminal Defense, DUI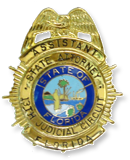 John always had the vision and passion of opening his law firm one day. Since 1999, he has helped hundreds of people in personal injury law and has defended clients who have been arrested and charged with serious crimes. His firm focuses on auto accidents, motorcycle accidents, personal injury, wrongful death, criminal defense, and driving under the influence cases. Refer to his practice areas for a complete guide to all areas that his firm has handled.
John Ossi recognizes the importance of personal attention, passion, and integrity for his clients and gives all of them equal importance and time. John makes every effort to educate and keep each client informed of the progress of their cases. He is dedicated to the success of his clients through thoughtful advice, personal attention, and commitment to achieving the best result possible.
John contributes to St. Jude's Medical research, Special Olympics, local charities, Tampa Gator Club, University of Tampa & University of Florida. He also enjoys spending time with his twin daughters, Leila and Nyssa. In his spare time, he enjoys traveling, golf, tennis, boating, and sporting events.